We impact diagnostic healthcare through the use of technology
What if … instead of relying on two human experts to double read mammograms, we augmented one reading with AI?
Such exciting times! One of our directors, Terence Naidu, launched Envisionit Deep AI Ltd's (UK) RADIFY for Mammograms in London. Our very first UK developed product.
Through the power of RADIFY and this Human-AI partnership we can assist in the early detection and treatment of breast cancer.
For more information please contact info@envisionit.africa
Envisionit Deep AI is honored to be featured in the Catalogue of Finalists of the 1000 Entrepreneurs Challenge by the Embassy of France in South Africa.
The 1000 Entrepreneurs, with perfect gender equality, come from 53 African countries, and are active in the fields of water and sanitation, waste treatment, energy, health, education, digital, agriculture, mobility etc.
We welcome the energy, creativity, resilience and professionalism of these 1000 Entrepreneurs and women Entrepreneurs of Africa. France is proud to provide practical and long-term support so that these agents of change bring their solutions to the citizens of Africa and build the African economies of tomorrow.
In particular, we want to congratulate the 66 South African winners. Reflecting the richness of its innovation and entrepreneurial sectors, South Africa is the country most represented among the Challenge.
Envisionit Deep AI is proud to be a member of the Global Entrepreneur Programme.
The Department for International Trade's Global Entrepreneur Programme recognises the value in building a business network and are focused on supporting overseas entrepreneurs.
A Joburg medical technology company has launched a new platform which helps doctors diagnose people with COVID-pneumonia. This platform has been added to its artificial intelligence solution for radiologists.
Usually, after doctors take X-rays of patients, the results can take several days. And that's why Radify -- an online platform created by Envisionit Deep AI -- is a game-changer.
The Radify platform eliminates waiting for results and can also identify which patient is a high risk for contracting COVID-19 by simply analysing an X-ray of their chest.
Ventureburn: Healthtech offers free AI tool: Envisionit Deep AI has just launched an online version of Radify, an artificial intelligence (AI) solution for radiologists and medical doctors. The startup — founded in Johannesburg in January last year by paediatric radiologist Jaishree Naidoo (who serves as CEO and is pictured above), Terence Naidu and Russian-born Andrei Migatchev — is offering the solution free of charge to support medical professionals that use X-rays in the identification and treatment of Covid-19. Following support from the UK-SA Tech Hub and an investment by Founders Factory and Netcare in February, the startup set up an office in London to take the business global. - Read more here
"Nobody knows Africa's problems like we do" - Dr Jaishree Naidoo, CEO & Co-founder of Envisionit Deep AI – South Africa, during her #SPOTLIGHT speech at the FORBES WOMAN AFRICA 2020 Leading Women Summit. The impactful speaker line-up and leading-edge content, discussions and networking at the 5th annual FORBES WOMAN AFRICA Leading Women Summit brought great value to all who attended – from attendees to market place exhibitors to event sponsors. — Read more here
How Envisionit Deep AI wants to Democratise Access to Healthcare in Africa at 2000 X-rays Per Minute. Despite Africa having the world's youngest population, the continent suffers from a shortage of paediatric specialists. Estimates put the number of fellowship trained paediatric radiologists on the continent at less than 20. IT'S TELLING that a country as developed as South Africa only got its first qualified paediatric radiologist in 2010. That specialist, Dr Jaishree Naidoo, believes that human capacity alone cannot solve the challenges the continent faces in that field. Now, together with co-founders Terence Naidu and Andrei Migatchev, Dr Naidoo is looking to take on the shortage of paediatric specialists with artificial intelligence (AI) through her medtech startup EnvisionIt Deep AI which was launched last year in January. — Read online — or download the PDF
Celebrating a successful Africa-UK: Female Tech Founders programme - hosted at the UK Houses of Parliament
Dr Jaishree Naidoo was selected as one of 12 female founders in a round table discussion with HRH the Duchess of Sussex. The Ladies who Launch event took place at Woodstock Exchange on 25 September 2019. The ladies shared their passion for ideas, technology and making a positive social impact. Female empowerment and championing women's rights is a key focus for The Duchess.— Read more here
Dr Jaishree Naidoo will be speaking at AI and the Future of Healthcare Summit on 30 October 2019, Hilton Hotel Sandton — AI and the Future of Healthcare Summit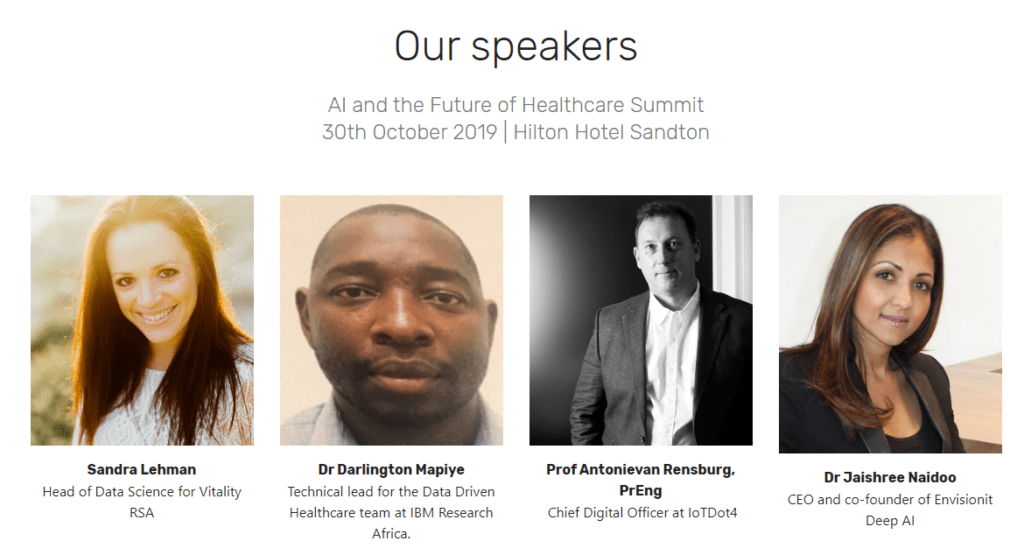 Meet the AI challenge was hosted together with the Radiology Society of SA in June 2019 at the Siemens auditorium in Midrand. 60 final radiology registrars participated in the challenge. The winner of the challenge was Dr Sunaina Ramdass.
We're incredibly excited to announce that we've joined the Venture Scale programme at Founders Factory Africa - kicking off today. Over the next 6 months, we'll be teaming up with FFA and Standard Bank Group / Netcare to grow our business and scale across the continent! — Read more here
Meet the AI challenge was hosted together with the Radiology Society of SA. 60 final radiology registrars participated in the challenge. Results showed that the accuracy of the radiologists improved significantly with AI assistance. The winner of the challenge was Dr Sunaina Ramdass.
Envisionit Deep AI was recognised as Top 10 Andza Entrepreneur at the SA Innovation Summit in September.